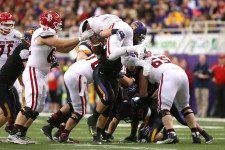 Brett McMakin, who some have as a top ILB and others have as a top OLB, had a 2nd pro day after competing in his first only 8 days after a life threatening appendectomy.
New York City, NY, April 21, 2016 (Newswire.com) - ​​​​​Brett McMakin improved his 40 yard dash to 4.72 in the 40 yard dash, 4.3 in the shuttle and under 7.00 in the 3 cone to display what was expected he would do at his original pro day. He weighed in at 241 pounds, 3 pounds heavier than his original pro day.
Brett was sidelined just 8 days before his pro day with an emergency appendectomy where he had 106 fever and was listed in critical condition. He emerged to participate against doctors' orders in his 1st Pro Day at Northern Iowa. He performed well but wanted to retest and do the drills as he was not 100 percent on his original pro day.
"His toughness and competitiveness is second to none and is on display 24/7."

David Schuman, Inspired Athletes, Managing Director
Brett had an amazing performance at his 2nd pro day at Simoneau Sports in Overland, KS. You can see the outstanding performance here . His toughness and competitiveness is second to none and is on display. In high school Brett was known as an amazing athlete who was fantastic in Basketball, Baseball, Football, and is a near scratch Golfer. He was an outstanding high school athlete who was the MVP of the Top Prospect Camp held every year by NUC Sports at the University of Oklahoma.
​Brett McMakin, the former star linebacker at Northern Iowa worked out for the Kansas City Chiefs on April 8th. McMakin is a rare athlete who finished his career by recording 225 tackles in the past two seasons. McMakin was a two time All-American for the Panthers, earning those honors both as a defensive end as well as linebacker. Brett has also met with post NIU pro day with San Francisco 49ers, Green Bay Packers, Detroit Lions, and the Atlanta Falcons. He has also met via phone with the Buccaneers. He is being courted as well by the Panthers and Colts.
As a Sophomore for Panthers, McMakin was used as a defensive end, getting an opportunity to show off his elite athleticism and pass rush ability. McMakin was a force all season long as he recorded 9.5 sacks, 2 forced fumbles, and an interception. This past season, McMakin was asked to contribute as a linebacker for UNI who finished their season with 7 straight wins before losing to eventually national champion North Dakota State. McMakin was an unstoppable force as a linebacker, recording 15.5 tackles for loss, 4 sacks, 2 interceptions, and 5 forced fumbles. "I don't know of a more versatile big linebacker in the draft, he can cover, rush, play the run and play outside, inside or even pass rushing D-end. McMakin has the ability to be a 10 year pro," say agent David Schuman.
McMakin's versatility makes him an elite prospect. At 6'4" and 241 pounds, he has the ability to play both inside and outside linebacker. He has the power and physicality to be effective inside, as well the speed to cause problems outside. He is a relentless blitzer who finishes his tackles with authority. In coverage, McMakin has the athletic ability to shut down tight ends and is very comfortable dropping back in zone. You can see his Junior film here and his sophomore year as OLB/DE here.
#####
About Inspired Athletes
Inspired Athletes (http://www.inspiredathletes.com) understands the amount of hard work, long hours, and sacrifice it takes for athletes to reach the professional level. To be a part of the 2% that get to go on and continue to play the sport they love for a living is a blessing. The decision in choosing the type of representation that fits is as important as it was selecting the best college program. We are available to answer any questions for athletes and their family members and only ask that athletes keep these key values that we represent in mind - INTEGRITY, INSPIRATION, FAMILY, CHARACTER, DILIGENCE, and LEADERSHIP. Inspired Athletes offers a breadth of services to help support the player throughout his lifetime which will include his NFL career and beyond. Our goal is for the player to be a part of our family and have the opportunity for lifetime success on and off the field. Services include, Player Representation, Marketing, Endorsement & Branding, Social Management, Financial Support, Lifetime Management, Medical Services, Insurance, and Legal and Accounting.
Inspired Athletes provides clients with boutique quality service, an understanding of the National Football League, and proven knowledge of the business world that is second to none. Their strategic process involves a hands-on approach throughout the processes of managing the multiple levels of demands placed on a professional athlete, while also providing traditional management services aimed at guiding the personal and professional development of the athlete throughout the life cycle of their career.
About NUC Sports
Schuman's National Underclassmen Combine (NUC Sports) is the longest running underclassmen event and the most respected combine and football camp in the country. Founded in 2005, NUC was formed to create a focused environment that allows freshmen, sophomores and juniors to showcase their skills and talents for college recruiters and recruiting organizations, giving each student-athlete ample opportunity to get recruited throughout his high school career, not just the spring before his senior year. Since its inception, more than 100,000 athletes have come through NUC events and more than 10,000 athletes have received Division-I scholarships after first attending an NUC event.
NUC is run by David Schuman and is coached by his veteran coaching staff, along with top high school football coaches from all across the country, as well as staff from Schuman's Speed Center & Schuman's Elite Training, where more than 10,000 athletes nationwide train and is widely recognized as the authority on speed and agility.
Source: Inspired Athletes
Share: