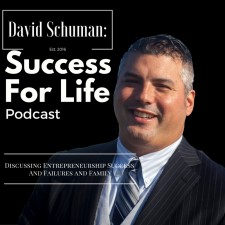 Entrepreneurs can learn how to succeed and how to handle failures in their quest for success
New York, NY, October 4, 2016 (Newswire.com) - Entrepreneur and executive David Schuman breaks down in his podcast the various tools and ways an entrepreneur can gain success and deal with failure. In the podcast now available on iTunes.
In the podcast David Schuman discusses 3 direct ways you can become successful as an entrepreneur. He also discusses the best methods to handle failure and how to prepare and deal with family life as an an entrepreneur.
"My goal has always been to help people learn from both my successes and failures as an entrepreneur so you can get real tools to help real people in reaching their lifelong success goals."

David Schuman, Enterpreneurship Guru, NUC Media
You can hear this amazing podcast here.
David Schuman is an entrepreneur, a football coach, a football talent analyst, a successful business owner, an NFL Agent and a media professional. He has built tremendously successful businesses and he is the founder of the National Underclassmen Combines, Inspired Athletes Agency, Owner at NFL Draft Bible, a former head football coach and current assistant coach at Old Tappan High School. You can read more on him at davidschuman.com and at nucsports.com
Expect podcasts three times per week and you can find out more at www.nucsports.com and www.nucsportsmag.com.
Source: NUC Media
Share: