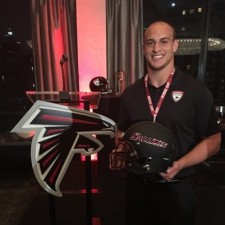 New York, NY, July 16, 2016 (Newswire.com) - ​Inspired Athletes NFL agency has taken flight in its first two years. The agency started by David Schuman and Dan Smith has blossomed into one of the up and coming agencies in the NFL space. In the last two years they placed 17 players on NFL teams for camp and had 9 sign with NFL & CFL teams. Clients with contracts included this years group of Davonte Lambert, DT of Auburn who signed with Tampa Bay, Adam Fuehne, TE of Southern Illinois who signed with Detroit and Brandon Williams, DE of Southern Illinois who signed with Atlanta. Two athletes signed with CFL teams including Kenzel Doe, KR/WR with Edmonton and JC Coleman, RB with British Columbia. 
"We really tried to capitalize off our first years success, by bringing in a group of players that can really contribute to the NFL and CFL and have an impact! We are focused on player going forward that have a passion for the game,and are great people!" says David Schuman of IA.
In 2015 IA, signed unheralded OLB Neville Hewitt who went on to start for the Miami Dolphins and Brandon Person of Tiffin who played with the Cardinals. They also had two other athletes sign NFL contracts including Mario Hull with the 49ers and Andrew Bose with the Ravens. 
######
Inspired Athletes iathletes.com  is full service football agency focused around helping athletes advance to the NFL in the their football careers and maximize their value and performance in the football marketplace. Started by David Schuman, who was the founder of NUC Sports, the most respected football recruiting program in the USA and Dan Smith, a career consultant and negotiations expert, they incorporated a unique skill set of football experience, relationships and knowledge to help their clients reach their goals. David Schuman was a starting linebacker in the mid 90's with University of Connecticut under Skip Holtz and Dan Smith was defensive back at UCONN. 
Source: Inspired Athletes Agency
Share: