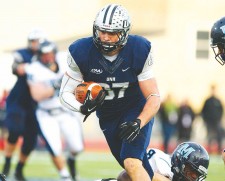 Portsmouth, NH, March 15, 2017 (Newswire.com) - Jordan Powell, a native of Lacey Township, NJ but starred in college playing tight end for University of New Hampshire will compete on March 15th at his pro day.
Jordan was a force for New Hampshire over his career he had 85 receptions and 7 touchdowns. He was an important part of the powerful New Hampshire offense. A pre-season All American Jordan had some of his best games against the best competition. A career high 10 catches came against Albany in 2015 and games of 9 catches, and 6 catches twice came against James Madison, Maine, and Lehigh respectively.
"When I personally worked him out, I knew Jordan was a pro. He runs crisp routes and catches everything. I have worked with over 300 NFL pros and have seen many top tight ends and Jordan has the ability to compete with top pros.

David Schuman, Managing Director, Inspired Athletes
His coach and offensive coordinator Ryan Carty has called him one of the best tight ends he has had the opportunity to coach.
You can watch more on Jordan here.
The UNH pro day takes place at 10am, March 15th 2017 at the NH Sportsplex in Bedford, NH.
Source: Inspired Athletes Agency
Share: