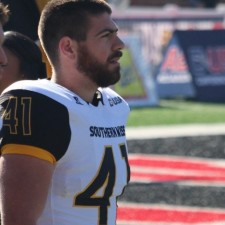 New York City, NY, April 22, 2016 (Newswire.com) - ​​​​It is not very often the football world gets excited but a long snapping prospect, but Lance Schuffert is an exception. You can see his snapping highlight real which is on display here. Lance was a first team all conference Long Snapper for Southern Mississippi.
Schuffert recently met and worked out with the Detroit Lions of the NFL for a personal meeting and workout. Lance took over the long snapping job at Southern Mississippi after his redshirt freshman season. Since then he has been one of the most consistent snappers in the entire country. Lance has also recently met with the Colts to discuss his future. At 6-0 and 231 pounds he ran a 4.88 40 on pro day and 31 inch vertical jump to prove his athleticism to make a play and block solidly where needed.
Lance was recently rated the top Long Snapper in the NFL Draft by NFL Draft Bible. Lance has been a four year starter at Long Snapper and has the best velocity and accuracy in the draft. At the Collegiate Gridiron Showcase he was rated as the top Long Snapper. You can see in his recent workout with James Dearth, Lance's exception snapping. You can watch right here.
Schuffert has incredible accuracy on his snaps. He has outstanding velocity and touch which help to make him a legitimate NFL prospect. Schuffert puts his talent on display on his Instagram for anyone who may think snapping takes no skill. In this clip https://www.youtube.com/watch?v=AjWuJuxXFY8 Schuffert's accuracy can seen as his hits half court shots and picks off milk jugs like a sniper. 
Lance is endorsed by many of the top special teams experts in the country including Mike McCabe and James Dearth.
Source: Inspired Athletes
Share: