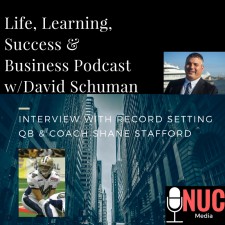 David Schuman, founder of NUC Sports has launched a groundbreaking new podcast that focus on thought leaders and their development into their success through his podcast Life, Learning and Success.
new york city, NY, September 7, 2016 (Newswire.com) - David Schuman founder and CEO of NUC Sports and NUC Media has taken on a new podcast to help professionals, athletes, business community, and success oriented individuals. It is called "Life, Learning, and Success" and launched September 6th with the first podcast with Shane Stafford, assistant coach of the Tampa Bay Storm and record breaking Quarterback in the AFL and at the University of Connecticut. You can here the original podcast here. There will be experts from all walks of life and they will share their great success.
The idea from the podcast came from the thought that people need to understand where successful people came from, that they are human, and that they have all done things that have put them into a great position. I want the world to learn from their successes and failures and how the mind processes and learns. The success and failures have become the core of what shapes and individual and how they react to it dictates their success. I also want to know their values, what shaped those values and  how they see the world. 
Guest for the upcoming are expected to be:
The most success High School Coach in America
A multi billion dollar hedge fund owner
A motivational speaker that has coached with Lou Holtz and Bo Schembechler
A All Pro professional football player
An Internet celebrity
Expect the podcasts three times per week and you can find out more at www.nucsports.com and www.nucsportsmag.com .
********
David Schuman is an entrepreneur, a football coach, a football talent analyst, a successful business owner, an NFL Agent and a media professional.  He has built tremendously successful businesses and is the founder of the National Underclassmen Combines, Inspired Athletes Agency, Owner at NFL Draft Bible, a former head football coach and current assistant coach at Old Tappan High School. You can read more on him at davidschuman.com and at nucsports.com 
Source: NUC Sports Media
Share: