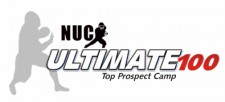 New York, NY, July 15, 2016 (Newswire.com) - This camp is like no other and is pure and simply a special camp. This camp is not a fluffy show or parade, but a competition and camp where athletes learn, compete, learn, compete and showcase themselves. This is the only camp where parents can literally sit down on the sidelines with a chair and be right next to all the action.
This is the only camp all year that brings together analysts from all over, media, and David Schuman, CEO and lead analyst of NUC Sports and Barry Every, National Recruiting Analyst in the same place analyzing the players.
"this is the camp, where we get to see the best of the best compete. NUC sports rankings, and all american sports are on the line."

David Schuman, CEO of NUC sports
There is no single camp in the country that has produced more college players, NFL draft picks and D-1 scholarships than NUC Sports' Top Prospect Elite Camp.
This is for the Top Players in Each Grade and Each Position, Competing For the Opportunity to Get Invited to get ranked in our state, national and regional rankings, to get ranked as a top prospect at their position from the top prospect camp, the NUC All American Events and Possibly the NUC All American Game, All South Classic, All West Classic and Texas vs the World Games.
The MVPS of the Rising Senior Group will get invited to the All American Games.
80% of the players in the The Camp have gone D-1. This camp is for the top players in the country only.
You must receive a special email invite to register. There is more info at www.nucsports.com
A few of the Past MVPS include Colt Lyerla (Oregon and Packers), Aaron Colvin (Oklahoma & ), Johnny Manziel (Texas A & M & Cleveland Browns), Tyler Bray (KC Chiefs NFL & Tennessee), Damontre Moore (NY Giants NFL & Texas A&M), Kenny Stills (New Orleans Saints NFL & Oklahoma), Kentrell Brothers (Missouri & Vikings), Trevon Pendleton (Michigan State & Ravens), OJ Howard (Alabama and Future 1st Rounder), Landon Collins (Alabama & NY Giants), Bryce Petty (Baylor & NY Jets), Bralon Addison (Oregon & Denver Broncos), Eli Anjou (UCLA) Travis Blanks ( Clemson), Tashawn Bower (LSU) and many many more, it becomes a who's who of future top stars.
Source: NUC Sports
Share: