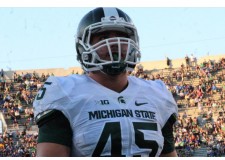 East Lansing, MI, March 19, 2017 (Newswire.com) - ​Prescott Line, who played his first three years of varsity as SMU's fullback and running back and finished his career as a grad transfer to Michigan State is set to star at Michigan State's Pro Day. We anticipate him being the top fullback in the draft.
Prescott at 6'0 255 is expected to show amazing performances in bench press, shuttle and 40, but will really shine in the drills. He has one of the best game film in recent years of any fullback in the draft. In his film you can see him pancaking and driving defenders into the ground over and over again. You can see his film here.
"I have never seen a fullback punish defenders the way Prescott does and I was a fullback myself. He delivers the blow and then finishes. He is alway in the correct position and takes the correct angle ever time. He also has a unique ability to control his speed coming out of his stance and finishing his block in order to get the correct force and direction needed on every block run or pass."

David Schuman, Managing Director, Inspired Athletes
One of Prescott's Offensive coaches Brad Salem has said "He is the best fullback and blocker we have had since taking over as a staff at Michigan State."
Hero Sports recently named Prescott as the top blocking back in the 2017 NFL Draft and one of the top 5 blockers in the whole entire 2017 NFL Draft. You can read more on that here. Says Todd Worley Draft Analyst for Hero Sports "The graduate transfer from SMU may very well be the best blocking fullback in this draft class. At 5-11, 253 pounds and the physicality to match his size, Line could be transported back through time 15 years and still be able to play the same position. For a fullback, that's a major compliment."
You can see Prescott compete at Michigan State's pro day on March 22nd at Michigan State's Indoor Facility.
Source: Inspired Athletes Agency
Share: