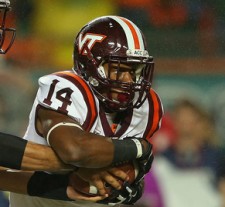 Blacksburg, VA, March 20, 2017 (Newswire.com) - Trey Edmunds put together an unbelievable performance at the Virginia Tech Pro Day on March 15th. He was prepared for his training by Speed and Sport Institute in Chantilly, VA and he did not disappoint.
He ran a 4.47 40 yard dash at 6'0 222. His size and speed was that of a top round draft pick. He also showed that he has successfully returned healthy from a season ending injury this past season. A former Freshman All American at the Running Back position, Trey's defense and special teams skills will also be huge asset for NFL teams as throughout his career he was an unbelievable special teams player. 
He also put together 24 reps on the bench, 4.4 in the shuttle, 34.5 inch vertical jump and 9'8 broad jump. His numbers would put him among the top performers at the NFL combine. 
He was outstanding in drills and showed elite athleticism. Post pro day he met with the Titans, Panthers, Ravens, Jaguars, and Dolphins.
Source: Inspired Athletes Agency
Share: